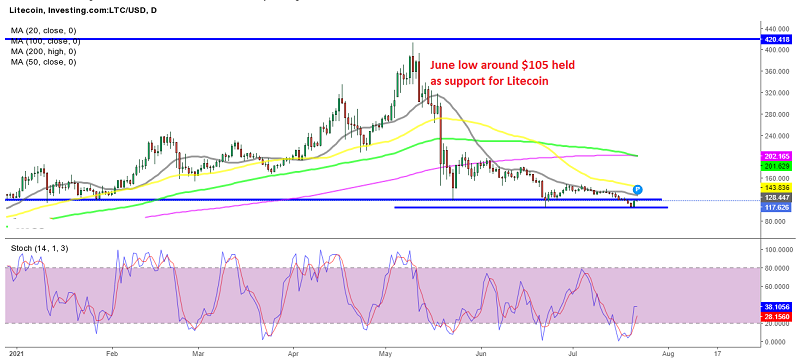 The decline in cryptocurrencies might have come to an end, after the bounce we saw in the crypto market yesterday. The sentiment has been really bearish for cryptos since the middle of May, and although the declines slowed in July, the bearish sentiment was constant, with no retraces higher in the past two weeks.
That painted a really bearish picture for cryptos, considering that the central authorities have decided to open a war on cryptocurrencies. But, yesterday the relief came unexpectedly, as most cryptos bounced higher, with BITCOIN jumping up by around $3,000, after it had fallen below $30,000.
The situation in Litecoin was looking quite dim, as it hadn't been able to put up a fight and close a bullish day in about two weeks. The support at $120 was broken and it briefly slipped below $105, which was the low during the second crypto selloff wave in June.
LTC/USD
But, the sentiment improved suddenly yesterday, with the market cap in the crypto market today at $1.21 trillion, registering a 1.9% increase in the last 24 hours. The daily trade volume also increased, by over 3.5 per cent, heralded by long-term investors.
ETHEREUM popped up above $2,000 for a moment, while LITECOIN is trading at around $117 at the moment, although, it is still trading below the 20 SMA (gray) on the daily chart, which has been pushing the price of the LTC/USD down since early June. If Litecoin manages to push above the 20 SMA, which stands at $130, buyers will be in control, and the bullish trend will be back on. We would have to buy Litecoin if that were the case.
Litecoin Technical Analysis – LTC/USD Weekly Chart
The 200 SMA held as support in Litecoin for the second time
On the weekly chart above, we see that the 200 SMA (purple) was the ultimate support, which held during the decline in June and was under attack early this week. But, it stood its ground, and now the price has pulled back up. The weekly candlestick is shaping up into a pin now, which is a bullish reversing signal after the decline.
If buyers push higher, above $120 and particularly above $130, then that would be a stronger bullish signal. We are looking to buy Litecoin, but will wait to see another attempt at the downside, because I don't think sellers are done yet. If that happens and the lows survive, we might be persuaded to go long on the LTC/USD.