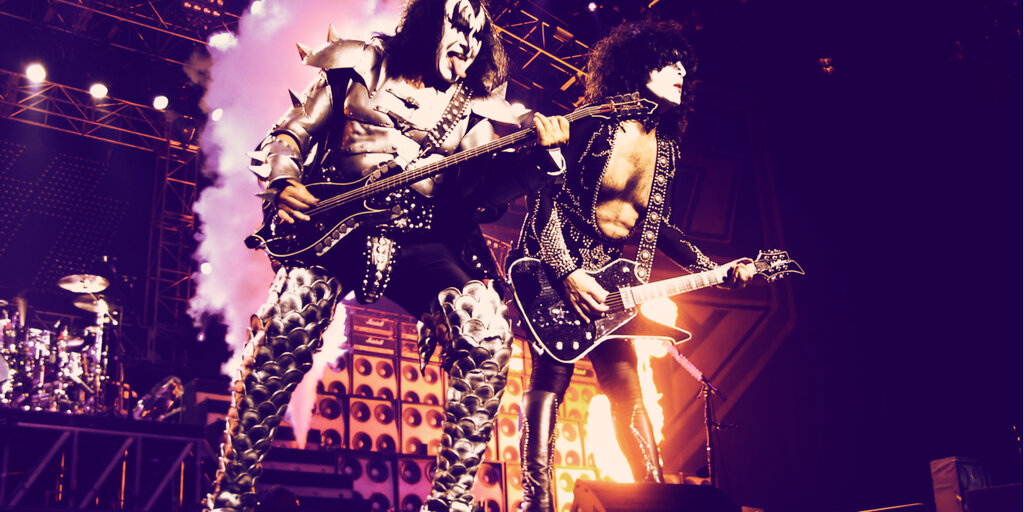 In brief
Gene Simmons of Kiss has purchased $300,000 worth of Cardano.
He says the coin is way cheaper than Bitcoin and has great potential.
Simmons maintains his tweets are not investment advice.
Gene Simmons, the famous bassist of Kiss, has taken to Twitter to talk about cryptocurrencies. This time he said he had purchased $300,000 worth of Cardano (ADA).
Explaining his reasons behind the decision, Simmons claimed that ADA is somehow more affordable than other coins.
"It's pennies compared to my other holdings like Bitcoin, which is over $50,000 a single coin. I believe everyone should be able to afford cryptocurrency. And here is one I believe in," wrote the musician.
But there's one issue here. It is possible to buy fractions of cryptocurrencies, so while 1 Bitcoin is worth $52,800, anyone can buy 0.0001 Bitcoin for just $5. This means that a high price isn't a barrier to entry for any coin.
The best way to compare coins is by looking at their respective market cap, which takes into account how each coin has a different supply. In Cardano's case, it has 31 billion coins in circulation, compared to Bitcoin's 18.6 million—hence why it has such a low price in comparison.
In a reply to one of his followers, Simmons also pointed to the fact that Cardano was created by Charles Hoskinson, a co-founder of Ethereum, who is confident that 2021 will be "the most productive year in Cardano's history" to date.
Hoskinson was quick to react to these statements saying he is welcoming Simmons to the Cardano family. "PM me if you need any support," added Hoskinson.
Cardano, currently the sixth largest cryptocurrency by market cap, has seen a spike in its price in recent weeks and will undergo a scheduled Mary hard fork on March 1. Described as "one of the most important events to happen on the Cardano blockchain since the Shelley rollout" last year, the upgrade will enable people to create tokens on the platform.
Gene Simmons gets into crypto
Simmons's affair with cryptocurrencies started back in 2017 when Bitcoin was rallying to $20,000, but the rock start went off the radar during the "crypto winter" in 2018 and 2019.
Three years later, in September 2020, Simmons endorsed Cameron Winklevoss' message in which the Gemini exchange co-founder encouraged people to use bank accounts to buy cryptocurrencies like Bitcoin and Ethereum.
Earlier this month, some days after the prices of Dogecoin and XRP suddenly skyrocketed, the musician revealed he invested in both of these cryptocurrencies.
Some commentators accused Simmons of being paid to promote altcoins like Cardano, however, the Kiss frontman insists his tweets are not investment advice.
"I'm not here to give you investment advice. Do your own research, I keep telling you guys. Additionally, you don't know me. So the idea of being friends with you, is not foremost in my mind," he said.